We gather at: School of theology (신학관 ) Seminary Chapel, 2nd floor on the Yonsei University campus (연세대학교)
Address: 134 Sinchon-dong, Seodaemun-gu, Seoul (서울 서대문구 연세로 50 (지번) 신촌동 134)
Find us through:
Chapel Coordinates 37° 33′ 57.37″ N 126° 56′ 12.10″ E or 37.565935, 126.936695
Directions
Get directions for when you are (click to jump):
Driving*/Walking
Enter Yonsei Main Gate. Go straight (north) until Underwood Statue Courtyard is directly in front of you. Take road to the left (west). School of Theology is building elevated to the left (west) of the Underwood Courtyard. Enter School of Theology building to the Seminary Chapel.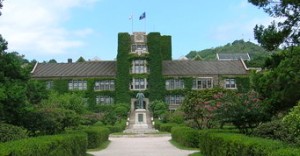 Courtyard
*We provide free parking vouchers after the service. Parking is located in the parking garage below the School of Theology building. Take the stairs or elevator to the 2nd floor to enter the Seminary Chapel.
Subway- Green Line #2, Sinchon Station
Exit #3- Walk north through Sinchon (away from the Sinchon rotary) to Yonsei University main gate (approximately a 7 minute walk). Walk north onto Yonsei University campus to the Underwood statue courtyard (approximately 5 minute walk). School of Theology building sits at a higher elevation to your left (west). It has a circular stained glass window and a steeple roof peak.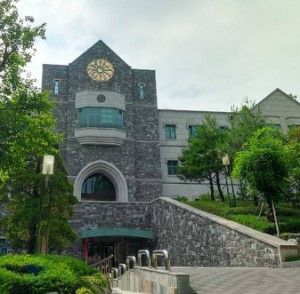 School of Theology- Seminary Chapel
At Main Gate , North Gate and East Gate of Yonsei University, take a PARKING TICKET and bring it to the church. You will be given a stamp after the service so won't have to pay for parking.
By bus
There are currently over 45 busses that stop in front of Yonsei University Campus. The routes of these busses encompass all areas of Seoul and nearby cities, including Incheon, Paju, Ilsan, and Goyang.